Making Holiday Memories To Cherish
Posted by TREG Team on Tuesday, December 13, 2022 at 6:24:43 AM
By TREG Team / December 13, 2022
Comment

It's easy to let the hustle and bustle of the holiday season fill our days during this very busy time of year. From holiday parties to shopping, to the kids' school performances, there seems to be more to do than enough hours in the day. Although it is easy to get caught up in the business of the season, we should remember that the holidays are for showing those you in your life just how much they are loved and appreciated. Most of the time, this is not shown with the most expensive gift or shiny new toy, but through quality time in making memories to cherish with those you love.
Here are a few ways to slow down, intentionally be present in the moment, and discover new joys of the season.
Build a Gingerbread House! This is a great way to gather family and friends around the table and watch their creative North Pole designs come to life… as you secretly hope you put enough icing on to hold the walls together. Ask everyone to go around the table and share what their favorite holiday memory is. You might be surprised to find out what they hold near and dear to their hearts.
Bake Cookies! Not only is this a delicious past time, but the kiddos really enjoy spending time with the family as they mix the ingredients, use a star and snowman cookie cutters to shape the dough, decorate with icing and sprinkles, all while licking their frosted covered fingers. And if a flour throwing food fight begins, go with it! There will be so much fun and uncontrollable laughter that you'll be reminiscent of this experience for years to come.
Go see Christmas Lights! Whether you head to the gardens, the oceanfront or drive around local neighborhoods to see all the festive holiday lights and displays, be sure to turn up the holiday music and bring some hot cocoa with marshmallows and sugar cookies, all while watching the kids' eyes light up with the magic of the season.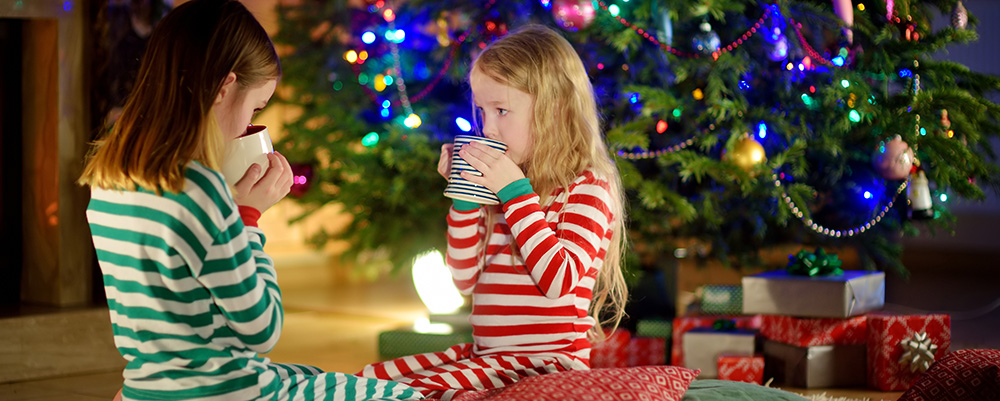 Make Your Own Ornaments! Start a new tradition and create a new ornament every year. You probably have more supplies around your home than you think. Grab the crayons, glitter, popsicle sticks, markers and have fun! You'll be amazed each year as you pull out these ornaments just how precious they will become around your home.
Slow down and take the time to create traditions and memories that will fill your home with love, laughter, and merriment.
"I will honor Christmas in my heart and try to keep it all the year." Charles Dickens