Local Spotlight: Seth Broudy's School of Surf
Posted by TREG Team on Monday, October 9, 2023 at 9:14:09 AM
By TREG Team / October 9, 2023
Comment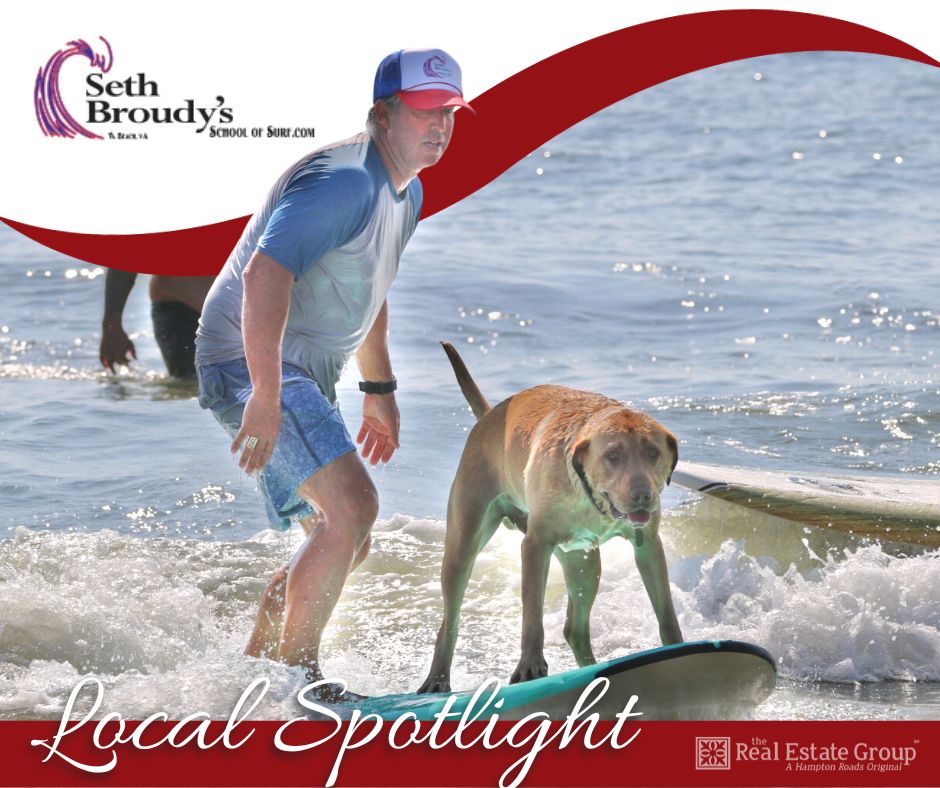 Do what you love, and you never work a day in your life! For one Virginia Beach local, the opportunity to pursue his love of surfing as a career began with the single gentle nudge of a surfboard.
On a scorching Tuesday morning, Seth Broudy rolls up to the Boardwalk on his beach cruiser and comes to a halt next to a statue of two bronze surfers titled, "Anticipation". Despite the weekday, the beach is bustling with surfers making the most of the pre-storm swells. His eyes fixate on the line up, watching the boards carve through each incoming wave.
The waves rolling off of the 1st Street Jetty are mild in comparison to some of the adrenaline charged swells Broudy has tackled throughout his many years of surfing. An accomplished and well-traveled athlete, Broudy has surfed all over the globe and has quite an impressive resume to show for it, competing-and winning- against other seasoned surfers like eleven time World Champion Kelly Slater.
With a promising professional career on the rise, Broudy's trajectory took an unexpected turn after a severe injury took him out of the water. Surfing would no longer be a battlefield for medals, but an unexpected classroom.
"After my daughter was born, I would take her out surfing here at 1st Street, pushing her onto the waves," he recalls. Broudy's expertise in the water and desire to share his passion for the sport with his daughter, began to spark interest among friends. "A few of my friends would ask, "Hey, would you push my son or push my daughter?" As the weeks continued, so did the phone calls, and the idea for a surf camp began to take form.
In its infancy, Seth's impromptu surf camp set up shop at Croatan Beach and catered to just 5-6 kids per week. However, as the word spread, the demand for Broudy's camps skyrocketed, and Seth now dedicates his summers teaching at maximum capacity of 45 students per week. Over the span of thirteen years, the Seth Broudy's School of Surf has not only endured but thrived, offering both multi-day surf camps and private lessons. Originally founded as a platform for teaching local children, the school has since attracted the interest of adults, drawing in both locals and tourists eager to experience the sport through private lessons.
What's the secret to Seth Broudy's School of Surf's success?
While his expertise and flawless 5-star rating vouch for the school's professionalism and authenticity, Seth attributes its distinctiveness to his trusted team. Rather than enlisting teenagers as instructors, Seth's surf camp assembles a roster of experienced adults, cultivating an environment akin to a closely-knit family.
"What sets me apart from the other surf camps is that I have a bunch of adults that work for us," Seth explains. "Everybody that works for me, I have grown up with them or I have grown up with their parents, and that's the way I'll keep it."
In Seth's transition from competitive surfer to camp leader, he found not only a way to sustain his love for the sport but also a sense of fulfillment in nurturing the surfing ambitions of others."I enjoy more seeing a child or adult that has complained and was scared to go in the water, catch their first wave, hold their hands in the air and not want to get out of the water, than I do having fun surfing myself now. That's what gives me joy. Until I don't see that anymore or have that feeling with watching these kids surf, I'll keep running surf camps.
Interested in hitting the waves yourself? You can learn more about Seth Broudy's School of Surf at SethBroudysSchoolofSurf.com or email at [email protected].