Local Spotlight: Hampton Roads Winery
Posted by TREG Team on Friday, November 17, 2023 at 10:17:14 AM
By TREG Team / November 17, 2023
Comment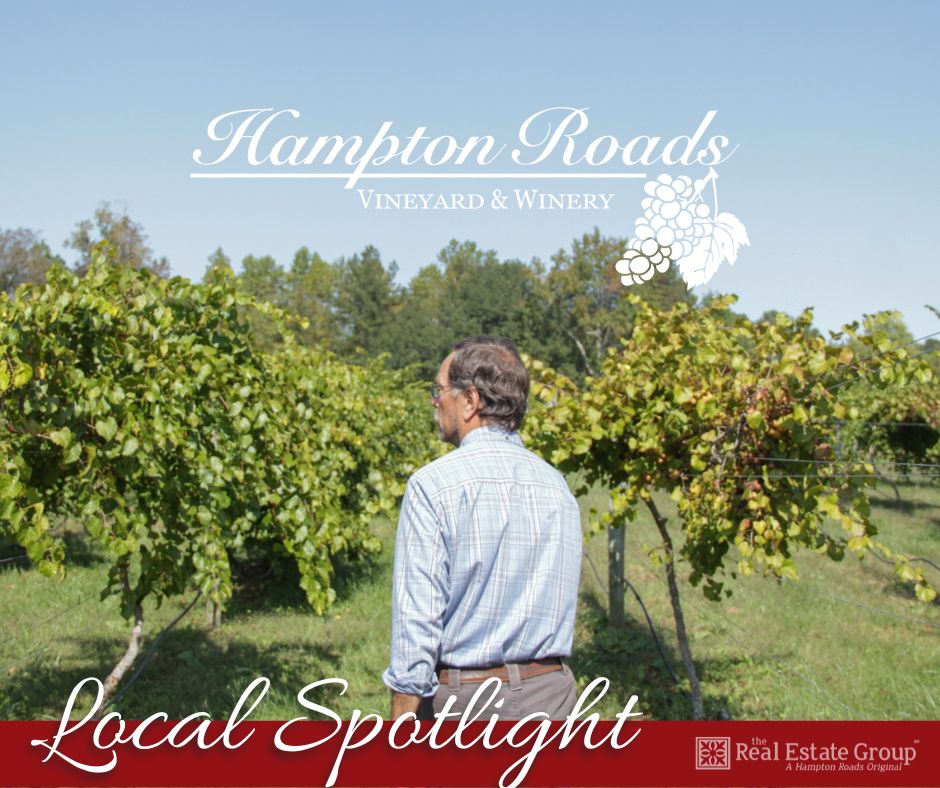 You can purchase land, buy seeds, and invest in the finest crystal-stemmed wine glasses imported from Spain. Thousands of dollars can be spent on new paint, modern shelving, and trendy lighting. In theory, all the components of a winery can be at your disposal with the swipe of a credit card.
However, what truly defines a remarkable winery is something that cannot be found in a store or shipped to your doorstep from Amazon. It's an intangible charm that can only be acquired through genuine passion for the craft and a connection to the land. And it's a charm that Dave Sheldon and his family at Hampton Roads Winery have certainly mastered.
A delicate aroma of sweet muscadine grapes drifts on the breeze, signaling their readiness for harvest. Dave Sheldon gently runs his fingers through the lush vines, causing the ripe grapes to tumble onto a blanket-covered ground. Nearby, his son, Rich, works diligently, gathering the ends of a quilt filled with mature fruit and transferring them into bright yellow bins, destined to become wine, bottled just yards away.
October is a bustling month for Hampton Roads Winery, marked by the race to complete the harvest of two expansive grape fields, preparations for on-site weddings, and the planning of upcoming holiday events. Despite pressing deadlines and more fruit to be collected, Dave takes the time to eloquently illustrate the distinctions between grape varieties, offers an informative tour of the estate, and introduces visitors to the beloved resident goat herd, kid by kid. It's clear, from his knowledge and passion, just how deeply Dave and his family care about this venture. Listening to him speak, one would assume the Sheldon family has been in the winemaking business for generations. Surprisingly, their first grapevine was planted just 15 years ago.
Having grown up in Massachusetts, owning and operating a winery was not part of Dave's initial plans. He embarked on a career in the plastics industry, a world away from the vineyards he now tends. However, when thoughts of retirement began to take hold, Dave started brainstorming ideas for their next big venture. "We are either going to sell everything, and sail around the world for the rest of our life," Dave proposed. "or we are going to have a vineyard winery." Her response was immediate: "I am not going to sail around the world for the rest of my life." Thus the decision was made, and Dave and Diane acquired a small plot of land in Elberon, Virginia.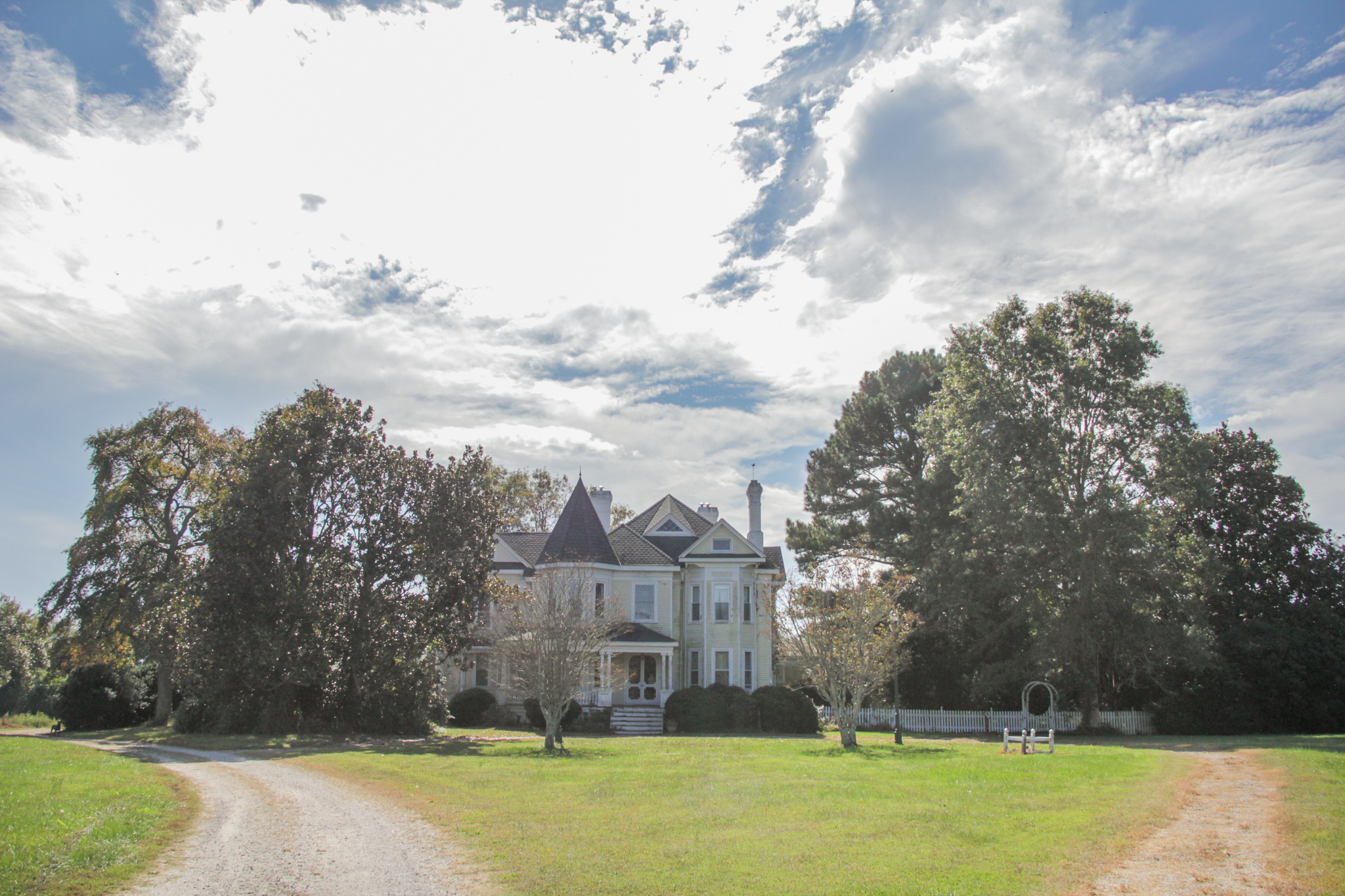 From seedling to vine, it was five years before the Sheldons were ready to produce their very first bottle of wine… or well… what they expected to be wine. "We were able to make an experimental batch of Morton wine in our carport. It was horrible; it would take the paint off your house," Dave laughed. "Because we knew how bad it was, we knew that we had to take this winemaking stuff seriously."
Despite their lack of winemaking experience, the Sheldons chose to approach winemaking from a scientific perspective. Diane, a chemist and former research specialist at Brigham Women's Hospital and Harvard Medical School, was a natural fit for the role of winemaker, while Dave's engineering background would prove invaluable in tending to the vineyard. Their quest for knowledge led them to dive into the world of winemaking literature. "You read everything—absolutely everything you could grab, everything that has the word wine in it," Dave recalls. "You read all these books and hope that you could grab just one good idea from them." It wasn't until Dave picked up "The Great Wineries of the World'' that he stumbled across what would soon be Hampton Roads Winery's famous landmark.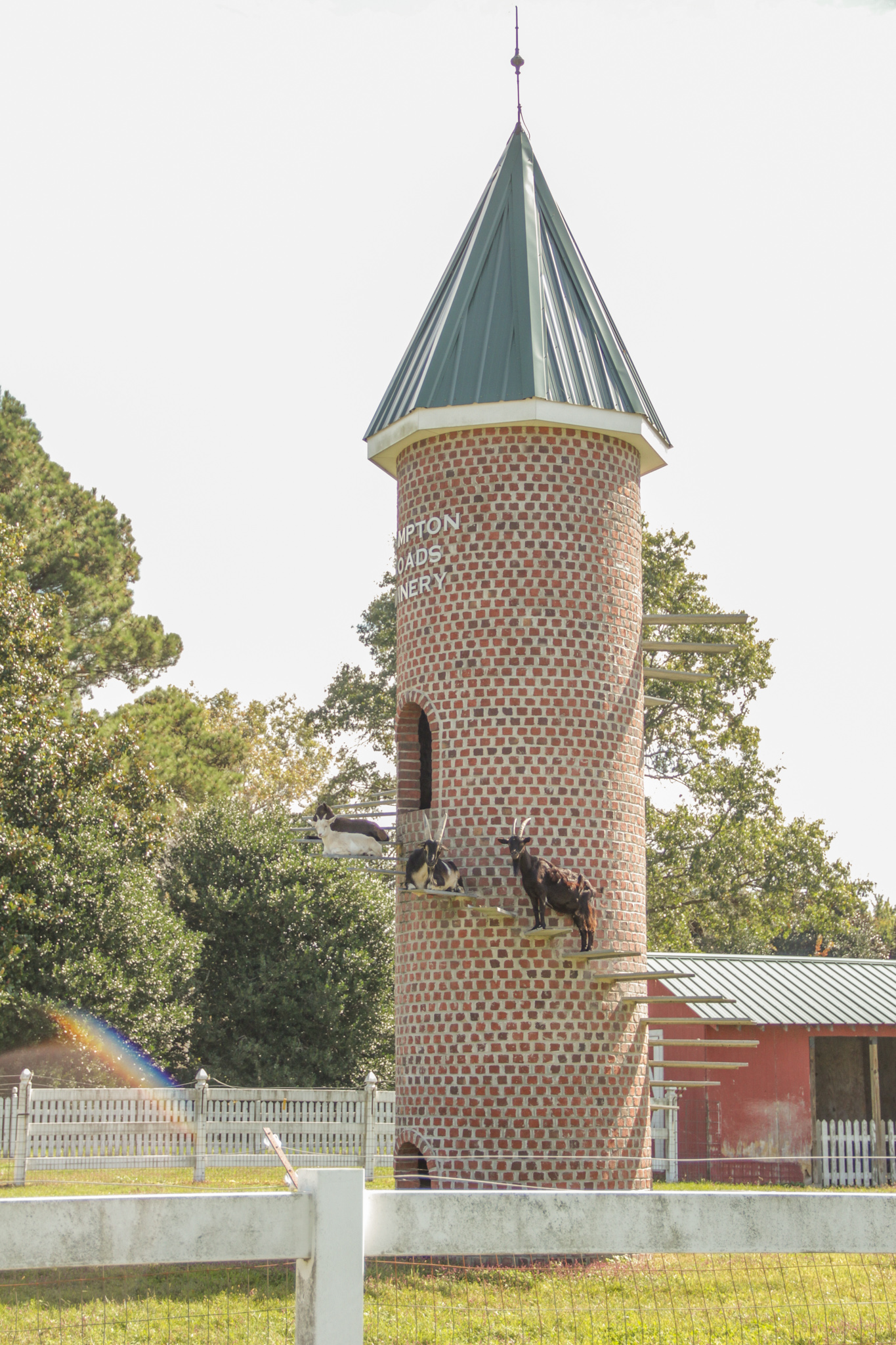 "I ran across a winery in South Africa that had a goat tower," said Dave. "They were the second goat tower on record in the world, the first being in Portugal. I was thinking this was kinda cool; we need something to create a destination here." This discovery planted the seed for a similar attraction at Hampton Roads Winery, one that would set them apart from the hundreds of wineries scattered around the state. Dave wasted no time in diligently designing and drawing up the plans, and with the help of a local tradesman, 5 weeks, and 5,000 bricks later, the world's tallest goat tower was finished in Surry, Virginia, and became home to the famous Hampton Roads Winery goats.
With the goats settled in and the tower a towering success, the Sheldon family embraced their mission in creating an inviting and unpretentious winery. "We're not snobs," Dave laughs. "We can't be snobs if we are selling wine slushies." While the magnolia-lined drive and stunning Victorian home provide an elegant entrance to the property, the Sheldons' rescue dog, Auggie, sets the tone with a warm welcome upon arrival. With a dozen informative signs placed throughout the grounds, guests are invited to take walking tours of the vineyard, read about the history, and immerse themselves in the stories behind the wines—beverage in hand, of course.
"When they are all done, they know about us and they become part of the story. Which is important, as opposed to just 'feed them a tasting and get them out the door' kind of thing," states Dave. "To have them come back a month later, or three years later, and they remember the story, and they remember why the scuppernongs have a yellow tag, they remember the little things that make us who we are. We are just not a pop-up winery—because there's a lot more here than just pushing wine." A gem in rural Elberon, Hampton Roads Winery is a relaxing getaway where guests are encouraged to let their hair down. "Enjoy wine, bring your own food, we don't care. I'm not selling hamburgers, I'm selling wine. Spend the afternoon with the goats, and just have a memory. And that's what we're promoting, and I think we've been fairly successful at that."
Successful indeed. Hampton Roads Winery has garnered over 120 glowing reviews, with visitors raving about the atmosphere the Sheldon family has created. While the goats certainly tend to be a highlight, many guests praise the inclusive and welcoming staff and experience they had interacting with Dave and Diane.
The Sheldon's have masterfully blended science, artistry, and passion in creating a destination that has become a haven where stories are shared, connections are forged, and visitors can enjoy an afternoon among good company with an excellent glass or two of wine (we recommend the Goat Tower Vidal Blanc). As you raise a glass at Hampton Roads Winery, remember you are not only tasting wine, but sipping from the cup of a family's commitment to truly mastering the art of winemaking with a touch of charm and a dash of goat-inspired whimsy.
Hampton Roads Winery has just celebrated their 8th Anniversary and is looking forward to expanding their business in the near future. You can follow their growth and calendar of exciting events like live music, tasting events, and community fundraisers by following Hampton Roads Winery on Facebook, Instagram, or by visiting them at HamptonRoadsWinery.com.