Ideas on how to create a kid's playroom that maximizes fun, creativity and learning.
Posted by TREG Team on Wednesday, July 12, 2023 at 3:27:08 PM
By TREG Team / July 12, 2023
Comment
Playroom Ideas for Homes to Inspire Fun, Creativity, and Learning in Kids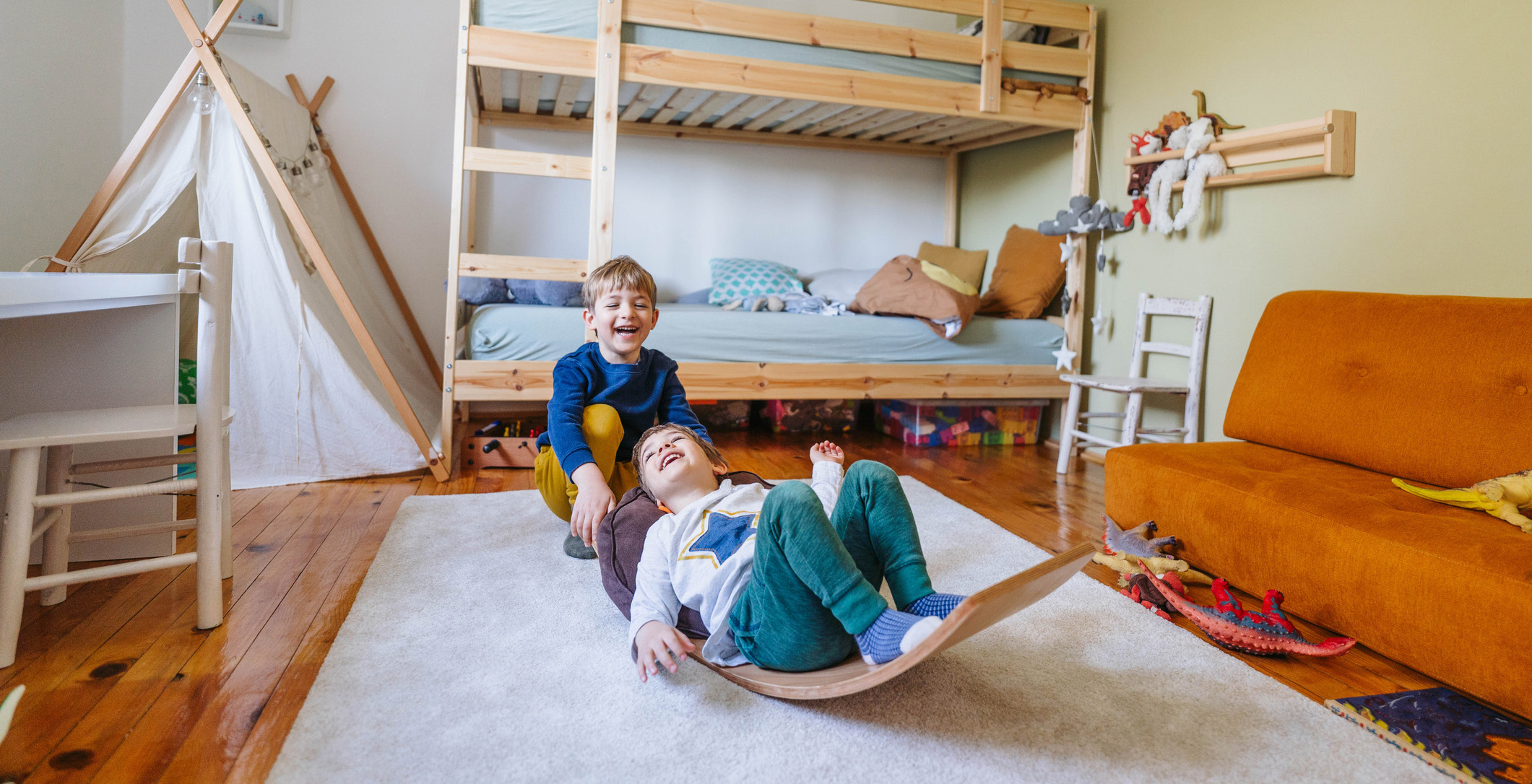 Creating a dedicated playroom in your home can be a wonderful way to encourage your children's imagination, foster their creativity, and provide them with a space to learn and grow. By designing a playroom that combines fun and functionality, you can inspire your little ones to explore, discover, and develop various skills. In this article, we will explore some exciting playroom ideas that can transform any space into a hub of endless entertainment and education for your children.
Keep It Colorful and Inviting: One of the simplest yet most effective ways to create an engaging playroom environment is through the clever use of colors. Vibrant, bold hues can energize the space and stimulate your children's senses. Opt for a palette that incorporates primary colors or soft pastel shades, depending on your preference and the age group of your children. Consider using removable wallpaper, colorful murals, or wall decals to add a touch of whimsy and character to the room.
Provide Ample Storage Solutions: An organized playroom is crucial for both functionality and aesthetics. Integrate practical storage solutions such as open shelves, cubbies, and baskets to keep toys, books, and art supplies neatly arranged. Ensure that storage units are easily accessible for your children, allowing them to develop a sense of responsibility and independence when tidying up. Labeled bins or baskets can make it fun and easy for kids to sort and categorize their toys.
Include Creative Activity Zones: Dedicate specific areas within the playroom to different activities. Create a cozy reading nook with comfortable seating, soft cushions, and a bookshelf filled with age-appropriate books. Set up an arts and crafts corner complete with a sturdy table, chairs, and a well-stocked art supply cart. Consider incorporating a dress-up corner with a mirror, hooks for costumes, and a small vanity table for imaginative play. Having distinct zones will enable children to engage in various activities and explore different interests.
Have Fun With Interactive Wall Features: Make the playroom truly interactive by incorporating engaging wall features. Magnetic chalkboard walls or whiteboard panels allow children to draw, write, and express their creativity freely. Install a climbing wall or monkey bars for physical exercise and motor skill development. A large world map or a wall-sized puzzle can serve as a fun and educational focal point, sparking curiosity about geography or problem-solving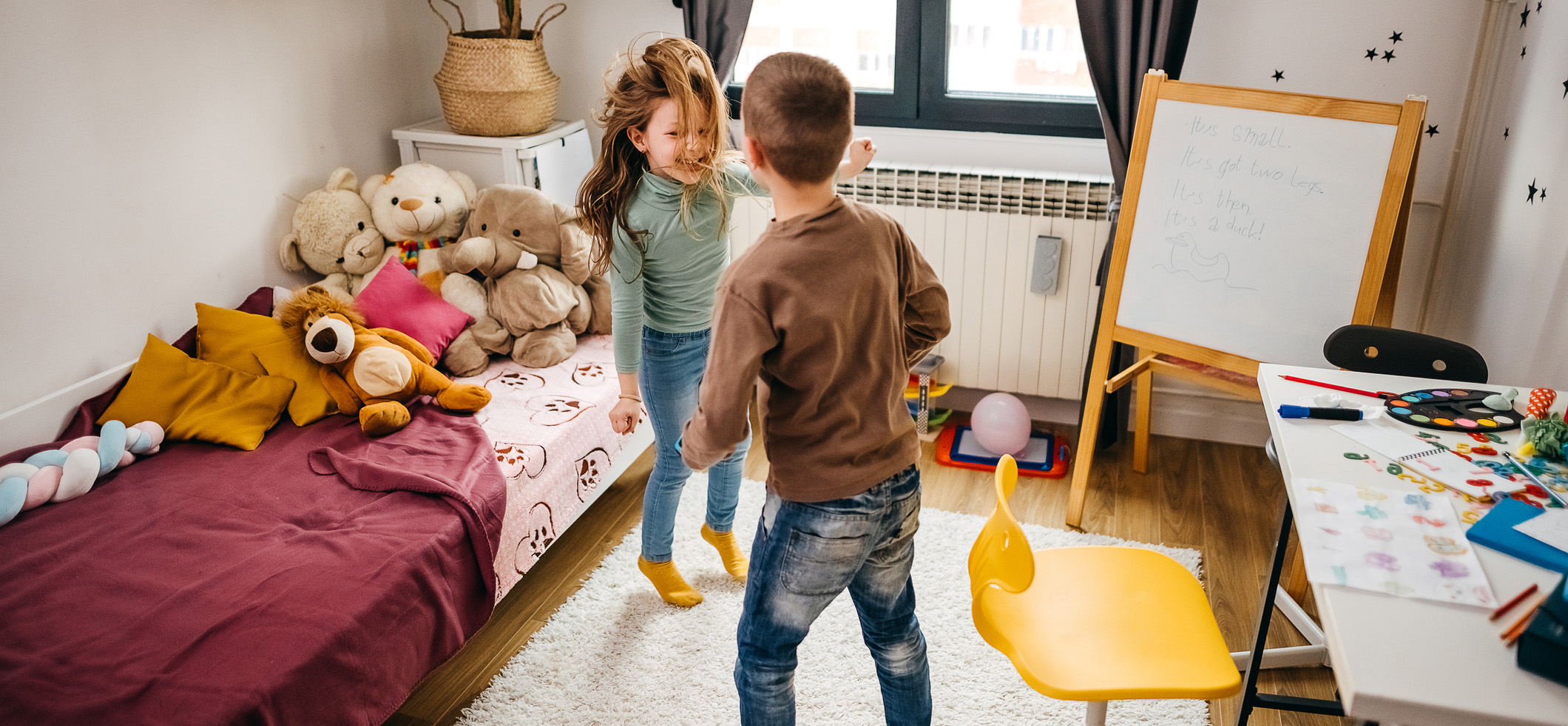 Provide Sensory Experiences: Introduce sensory elements to the playroom to enhance your child's cognitive and tactile development. Soft rugs or foam mats provide a comfortable surface for play and help define different areas. Include sensory bins filled with various materials like colored rice, sand, or water beads, offering children the opportunity to explore different textures and stimulate their senses. Incorporate a cozy corner with bean bags or floor cushions for quiet time or sensory play with calming elements like kinetic sand or stress balls.
Include Multi-Purpose Furniture: Maximize the functionality of the playroom by integrating multi-purpose furniture. Consider a storage ottoman that doubles as seating, or a play table with built-in drawers or shelves. A foldable table or adjustable-height desk can accommodate different activities, from drawing and puzzles to homework and board games. This versatility ensures that the playroom can adapt as your child grows.
Designing a playroom that inspires fun, creativity, and learning for children requires careful consideration of both aesthetics and functionality. By incorporating vibrant colors, ample storage solutions, creative activity zones, interactive wall features, sensory experiences, and multi-purpose furniture, you can create a space that nourishes your child's imagination and supports their development. Remember to involve your children in the design process, as their input will make the playroom truly their own. So, let the magic of play unfold within these specially crafted spaces, where imaginations soar and laughter fills the air.