I scream, You scream... | Hampton Roads Ice Cream Shops
Posted by TREG Team on Wednesday, July 15, 2020 at 9:12 AM
By TREG Team / July 15, 2020
Comment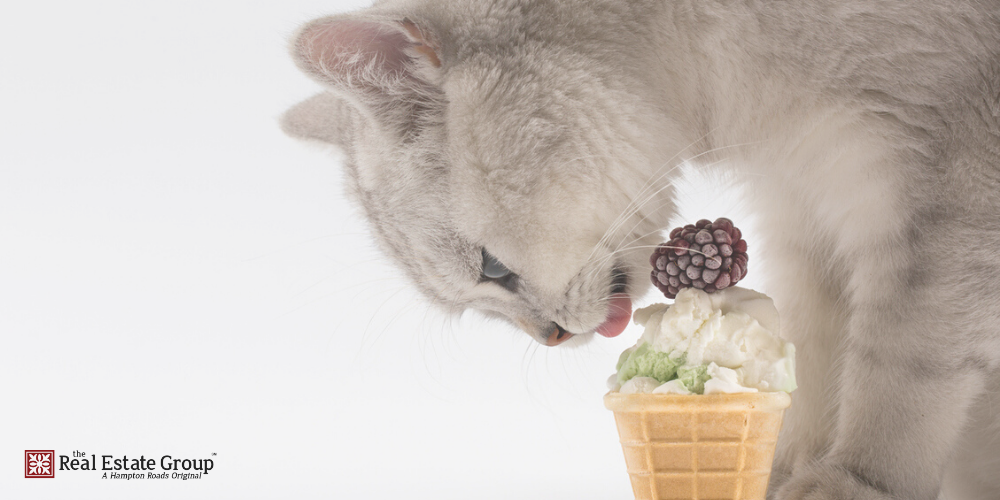 Hello Summer! We are right in the hottest weeks of the season and we don't know about you, but we're craving ice cream. Hampton Roads and Northeast North Carolina have some terrific offerings. We have listed our favorites below.
Bergey's Breadbasket | Chesapeake
Fresh churned ice cream and other homemade treats in a farm setting, that's Bergey's! Their peach ice cream in season is the best we have ever had!
Big Buck's Homemade Ice Cream | Corolla, Kitty Hawk, and Manteo, NC
A triple threat serving homemade ice cream, sorbet, and sherbet. Their ice cream uses fresh milk and cream and is pasteurized to create a super-premium flavor. The sorbets are made with the best fruits available and are a great option for those who are lactose intolerant. The sherbets are a wonderful lower fat indulgence.
Blue Cow Ice Cream Co. | Virginia Beach
A huge variety of creative flavors like goat cheese with blueberry swirl and strawberry balsamic.They serve ice cream flights so you can taste many! Their coffee with chocolate chip flavor is made with local favorite Three Ships Coffee.
City Center Ice Cream | Newport News
All their ice cream is made fresh in the store using delicious ingredients. Waffle cones are no additional cost! And their ice cream cakes are made by hand and can be custom ordered.
Cone Slingers | Carrollton
Cone Slingers makes all its own ice cream AND specialty waffle cones. They change flavors regularly, so you just have to go in and see what is available. They always have 20-25 flavors including Salt Lick Caramel, Maple Bacon Brickle, Chuckwagon Chocolate, Unicorn, and even a vegan option!
Gerald's Ice Cream Bar | Virginia Beach
This is a real ice cream shop! The ice cream is made daily on site and has a soda shop environment of the nostalgic past. Can't decide on just one flavor, Gerald's offers a 4 or 6 flavor ice cream flight. Their sorbets are made with a unique flash-freeze process and fresh fruit. Vegans rejoice and feel right at home with their wide variety of plant-based flavors.
Hummingbird Macarons | Norfolk
Fresh made macaron cookies and ice cream sandwiches in a variety of interesting flavors. Hummingbird is located in the Pagoda in downtown Norfolk. Enjoy a cookie and a view!
Irwin's Fountain | Chesapeake
A true drug store soda fountain in the back of a pharmacy. Transport yourself back to the days of neon signs and Elvis on the jukebox. Irwin's serves ice cream, malts, banana splits, and milkshakes in a fun and friendly atmosphere.
Lolly's Creamery | Virginia Beach
Started as a local pop-up and ice cream bicycle cart around town, Lolly's has grown serving some of the best handmade ice cream around. They specialize in unique flavors and quality ingredients. Lolly's believes that food is meant to be shared with those you love and enjoyed by all. Check their website for current flavors.
Look Up Dessert Cafe | Chesapeake
Look Up uses fresh and high quality ingredients, freshly made waffle cones, macaron ice cream sandwiches, affogato, and mini pie tarts with ice cream. They serve milk shaved ice in unique flavors including red bean, mango, and tiramisu.
Pelican's SnoBalls | Portsmouth
Not exactly ice cream, but a local favorite nonetheless. Pelican's uses a New Orleans tradition of combining smooth fluffy snow with bold flavors. Kids love their signature snoballs. There is even a dill pickle flavor. And, you can add cream to any flavor.
Urban Ice | Norfolk
Well reviewed and unique Thai-style rolled ice cream bowls paired with unique toppings.
Did we miss your favorite local ice cream shop? Let us know in the comments below. While you are enjoying a cold treat, find out what your home is worth in this 'hot' seller's market!