Healthy Pizzas to Make at Home
Posted by TREG Team on Thursday, September 10, 2020 at 7:22 AM
By TREG Team / September 10, 2020
Comment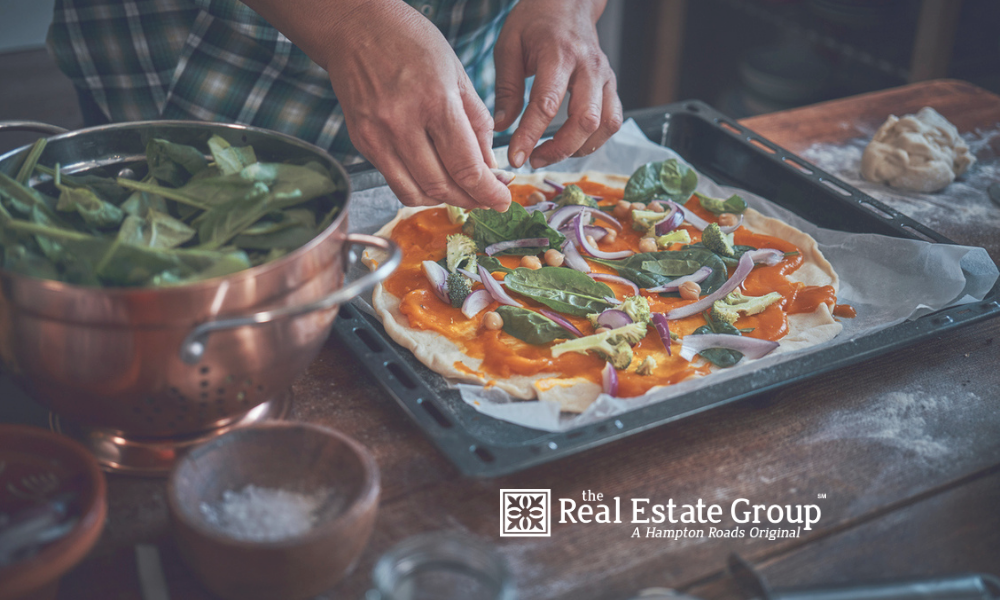 We are sharing some of our favorite healthy pizza recipes, some are Instagram-ready, colorful, and splashy, while others are easy to pull together on a busy weeknight. Whole grain crusts provide a delicious nutty flavor, and slip in a few servings of whole grain. We have included a crust recipe and a store bought winner at the end of this article. We suggest you invest in baking parchment to bake right on the oven rack if you love crisp crust. Or, you can cook outside on the gas grill. Buon appetito!
Pizza With Olives, Aleppo Pepper, and Fresh Mozzarella
Aleppo pepper makes a great pizza seasoning, because it is less assertive and more nuanced than red pepper flakes. It is a little spicy and a full complement to the tangy sauce and rich cheese in this pizza. You can find this pepper at spice stores, gourmet grocers, or online. The sprinkle of kalamata olives adds just the right touch of umami.
Pizzas are a great place to slip some extra leafy greens into your diet! Peppery arugula adds a burst of tangy freshness that pairs well with the savory toppings. Mushrooms are terrific stand-ins for traditional cured meat toppings that are heavy on sodium. We recommend a mixture of portobello and crimini mushrooms for a meaty, and earthy rich flavor.
Bright and herbaceous flavors are the stars of this pizza! Roasted tomatoes offer a sweet contrast to the tangy feta and nutty pesto. Plus, roasting your red tomatoes makes them richer in the antioxidant lycopene and lower in sodium than traditional pizza sauce. We recommend using a high-quality ricotta cheese to make your pizza creamier and even more delicious.
The classic Vietnamese sandwich gets reincarnated as a cheesy pizza. Quick-pickled carrots, cucumber, and radishes provide a bright crunch. Although the classic banh mi sandwich calls for pork, our meatless version is really satisfying. If you are craving an extra hit of quality protein, try cracking two eggs over the cheese before baking. Yummy!

Curly ribbons of zucchini and bright cherry tomatoes bursting with flavor are the perfect pair for this creamy ricotta base. For added visual interest, you can use multi-colored tomatoes. To keep it easy, you can roll the dough out on parchment paper and place the paper on a hot pizza stone.
Crunchy Whole Wheat Veggie Pizza
This super easy recipe uses whole wheat tortillas as quick pizza crusts. It is a kid favorite and an easy way to get vegetables into their diet.
The classic combination of tomatoes, fresh mozzarella and thinly sliced basil never disappoints. Our caprese pizza uses those ingredients to make an easy and delicious pizza. Adding a drizzle of balsamic vinegar or balsamic glaze brings out the flavors and makes for a beautiful presentation.
Butternut Squash Pizza
This is a beautiful and colorful pizza. The goat cheese is mild, so if you want more of a 'kick', consider switching it out for feta or gorgonzola cheese.
Using pitas for the crust makes this sweet and savory pizza easy to make. Smoky bacon, rich walnuts, and woodsy thyme give a depth to these quick personal pizzas.
Easiest Whole Wheat Pizza Dough
Easy peasy recipe!! You can mix up this 100% whole wheat pizza dough in your food processor. It rarely needs kneading or rising time. You can store it in the refrigerator for a few days for a quick, homemade pizza anytime!
Best Store-bought Pizza Dough
Hands down, Trader Joe's fresh pizza dough packs are the best! Sprinkle a little flour on your working surface and this dough is easy to roll out. It holds its shape very well, and browns quickly. Taste testers noted its crispy-chewy texture and yeasty flavor. It comes in whole-wheat and Italian-style varieties.

Let us know if you make any of these recipes and what you and your family thought! And, if you need any assistance finding a new home with an upgraded Kitchen, or maybe even an outdoor pizza oven, start your search here! We'd love to help!