Best Local Parks For Walking
Posted by TREG Team on Thursday, March 24, 2022 at 11:14 AM
By TREG Team / March 24, 2022
Comment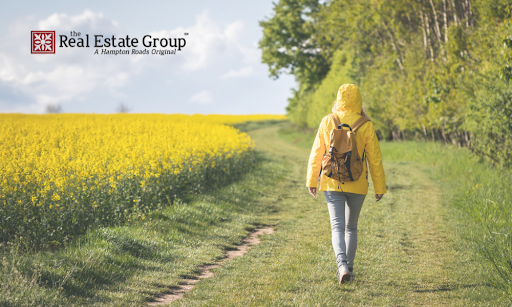 Our Best Local Parks For Walking
March 30th is National 'Take A Walk In The Park Day', and our region has an abundance of fantastic parks to take a walk within. Our area is a haven for families who adventure together. With miles and miles of interpretive trails in our state and city parks, you can hit the ground 'walking'. The following are some of our favorite parks to take a walk in.
Chesapeake
Molly Mitchell, Otter Point and Indian Creek Loop is located at Northwest River Park. The loop is 4.2 miles and is popular for walking. Dogs are welcome on a leash.
Chesapeake Arboretum North and South Loop is a popular area for walking, so you will likely encounter lots of other folks while exploring here. This trail is open year-round, and is beautiful to visit anytime of the year.
Great Bridge Battlefield & Waterways Historic Park has a 1.2 mile trail loop that runs along the Intracoastal Waterway. You can watch the boat traffic along the waterway as you walk.
Dismal Swamp Canal Trail is 16.5 miles out and back, but you can turn around at any point. The trail parallels the Dismal Swamp Canal. It is popular with locals for walking, trail running, cycling, and horseback riding.
Hampton
Fort Monroe Seawall Trail is 3.6 miles that travels from the marina, to the fort and seawall, and beaches. Spectacular views of Hampton Roads harbor and history is everywhere here.
Newport News
Noland Trail and Meadow Path Loop is located in Mariners Museum Park. The trail winds through rolling woodlands and along Mariners' Lake. You can also enjoy a picnic lunch at the famous Lions Bridge overlooking the James River. This park is definitely an urban oasis.
Norfolk
Elizabeth River Trail is not in a 'park', but this trail makes our list because it is unique, running along the Elizabeth River from Norfolk State University to Terminal Boulevard. There are numerous access points along the route. Walkers will enjoy both urban and natural views, and interpretive markers telling the history of the area.
Suffolk
Lake Meade Park Loop Trail, a 1.7 mile loop where it is unlikely you will encounter many other people while walking. So, if you like quiet walks, this is your trail!
Virginia Beach
Mount Trashmore Loop is an easy walk for all skill levels. It is located at Mount Trashmore Park in Central Virginia Beach and also has play areas for the kids.
Stumpy Lake Loop overlooks beautiful Stumpy Lake and is 1.5 miles in length. The park also includes a golf course, and 1.65 miles of soft trails perfect for all ages and experience levels.
Bald Cypress Trail offers a 1.6 mile loop that weaves through enchanting cypress swamps, sometimes on boardwalks and platforms that overlook the low wetlands. Dogs are welcome on leash. Bald Cypress Trail is one of nine interpretive trails that run through First Landing State Park's seven distinctive ecosystems.
Lake Lawson/Lake Smith Natural Area has a trail loop that can be walked in a little over 30 minutes. There is an abundance of trees surrounding the lakes, making this a great place to enjoy autumn colors. The trail features platforms that overlook the lake where you can spot white catfish, largemouth bass, and bluegills swimming beneath your feet.
Pleasure House Point Natural Area includes over 118 acres of marshland, maritime forests, and beaches to enjoy. The soft and sandy trails are located between the Lynnhaven River and the mouth of the Chesapeake Bay, affording you with beautiful views.
Sand Ridge Trail is located within False Cape State Park, one of the last remaining undeveloped areas along the east coast. This trail is 6.2 miles and travels from the entrance of the park to the North Carolina state line. Along the trail you will experience dunes, maritime forests, oceans beaches, a backbay, and wooded swamps.
Other Areas
Hog Island Wildlife Management Area Trail is located near Surry, Virginia. If you like wildlife, this is the trail for you. It is a 6.1 mile loop that is popular for walking and fishing. Plus, there are abundant waterfowl to observe.
Yorktown Battlefield Historic Encampment Tour is a 10.8 mile loop through the Colonial National Historical Park in Yorktown. Like many of the walks on our list, it blends historical markers into your trail experience. It takes you through areas where the American and French troops spent the majority of their time during the siege of Yorktown.
Corolla Greenway in Corolla, North Carolina, has beautiful views of maritime forests and the Currituck Sound. The trail parallels Route 12 and offers access to boardwalks over wetlands, beaches, shopping, and dining areas. It passes through Currituck Heritage Park where you will see the Currituck Lighthouse and historic Whalehead Club. A very scenic walk in North Carolina's Outer Banks.
We hope that this list has inspired you to 'take a walk in the park' with us. After a long busy day, a walk is a wonderful way to relax, re-energize, and improve your overall health. Let us know in the comments below where your favorite park to walk in is located.