Autumn Decor
Posted by TREG Team on Tuesday, September 15, 2020 at 9:05 AM
By TREG Team / September 15, 2020
Comment

Simple & Affordable Autumn Decorating Ideas
Here are some great Autumn decorating ideas that are easy to create and don't break the bank. The goal is to bring the beauty and colors of Autumn inside. We have pulled photos of each to help you visualize the project. A great local resource for these projects is Norfolk Wholesale Floral. Idea starters and photography have been curated from One Good Thing, which is a terrific resource for all things 'home'.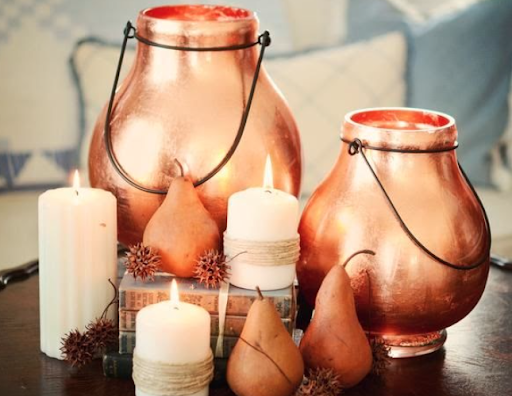 Hurricane Glass Makeover | Purchase some sheets of copper leaf at your local craft store to give your glass candle holders some glamour and warmth. You can place on the mantel and add natural elements for added interest.


Autumn Door Monogram | Craft supply stores usually carry inexpensive lightweight wood initial letters. Paint the letter, then hot glue silk or real leaves to it in layers until you get the look you want to achieve. You can hot glue a wire loop on the back for hanging or a magnet if your door is metal. What a welcoming touch!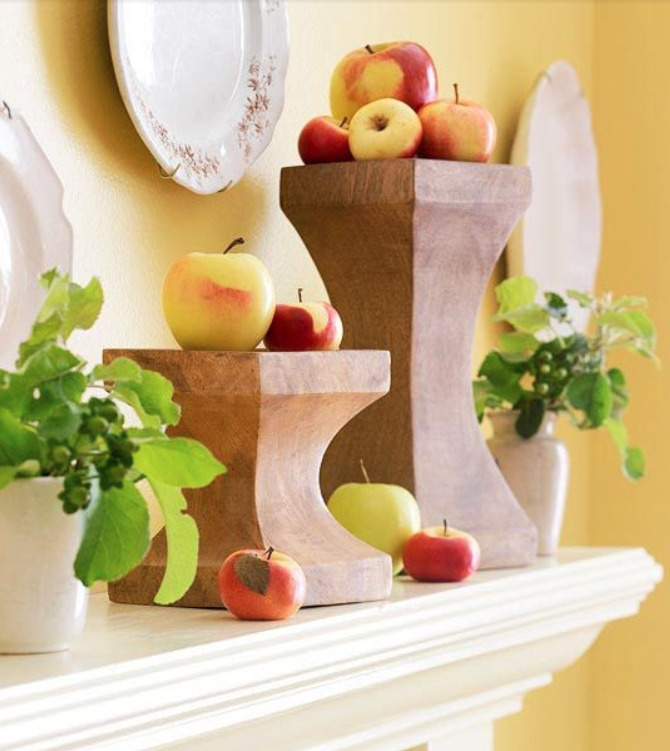 Apple of Your Eye | This is the perfect time of year to decorate with apples. They provide beautiful color. You can place apples on simple pedestals for a classic look. Use artificial apples if you want the display to last all season. Real apples can be rotated, and other fruits can be used too. Think pomegranates!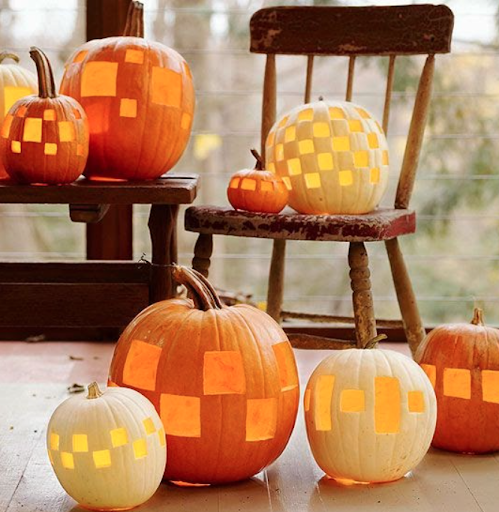 Squared Away Pumpkins | These pumpkins make a simple statement. Cut-out simple geometric patterns on multiple sizes and colors of pumpkins for this unique look.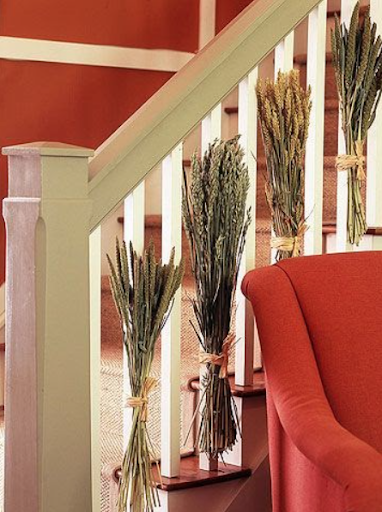 Stairway to Fall For | Many craft stores and floral shops carry ornamental grasses this time of year. You can simply bunch them together with a rubber band, and then tie to your balusters with raffia.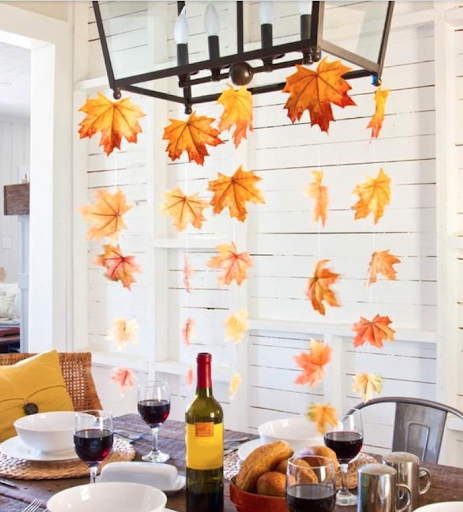 Falling For This Centerpiece | This great idea provides loads of Autumn atmosphere without using up valuable table space. Simply string silk leaves on clear fishing line and hang from your lighting fixture.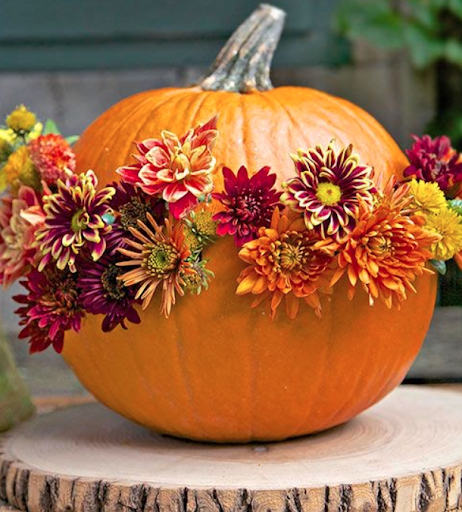 Mum's The Word | Purchase a pumpkin (or two), and a bunch of Autumn color chrysanthemums. Cut holes at varying heights around the center of the pumpkin. Insert floral vials into the holes until they are just below the surface of the pumpkin. Cut the flowers so they have approximately 2" stems and insert into the vials.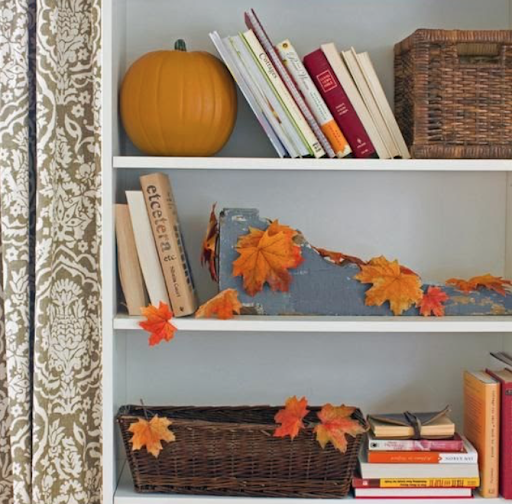 Leaf It Behind | Sprinkle fall leaves on your mantel, bookshelves, and any flat surfaces to set the seasonal color palette and mood. You can pick up beautiful leaves from your yard, or purchase some silk leaves at your local craft store.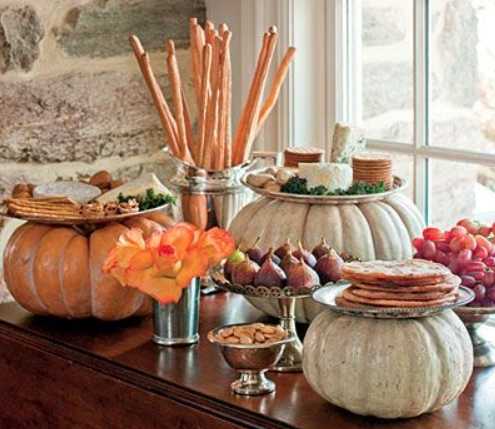 Pump It Up | You can use pumpkins topped with serving pieces for a seasonal buffet display. Green and pale pumpkins of varying heights let your food shine! When not in service, the trays can be filled with fruit, nuts, or seasonal figurines.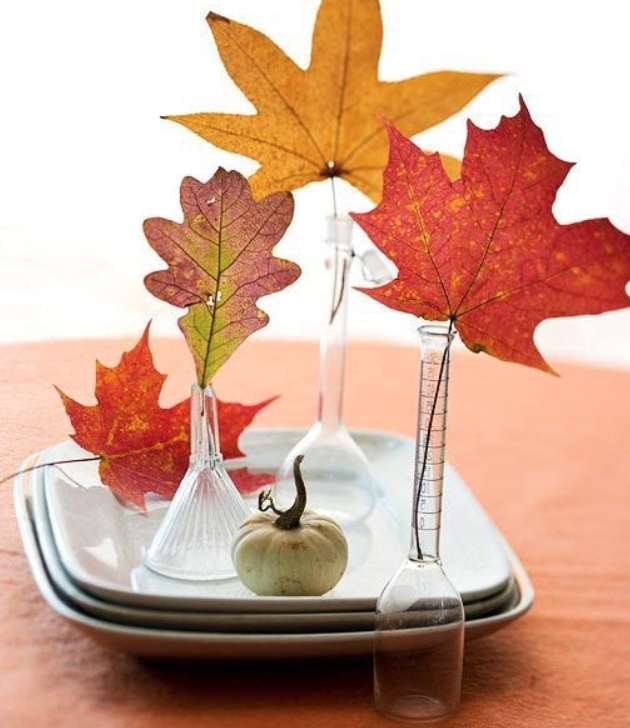 Hey Bud [Vase] | A small and delicate display of Autumn leaves can be breathtakingly beautiful. Individual leaves, each in a diminutive bud vase will draw attention, and placing the display in a bright location will enhance the details. Another tip, each vase could be used at a place setting on your table.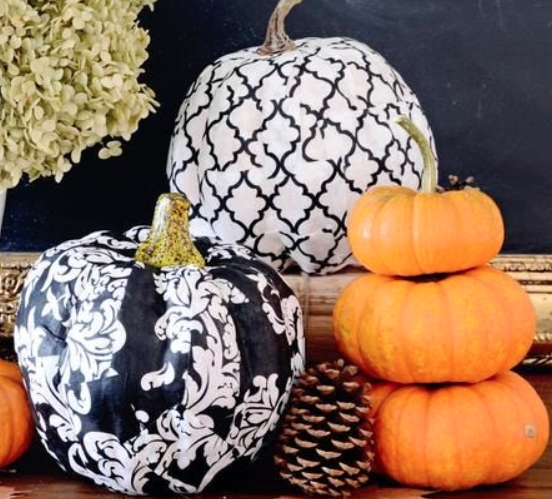 Faux & Fabulous | Cover faux pumpkins with trendy fabric and cover with Mod Podge. Larger sizes can be used on the porch for added interest. Smaller pumpkins can add a unique focal point indoors.