Local Spotlight: The Apricity Hope Project
Posted by TREG Team on Wednesday, March 22, 2023 at 1:42:58 PM
By TREG Team / March 22, 2023
Comment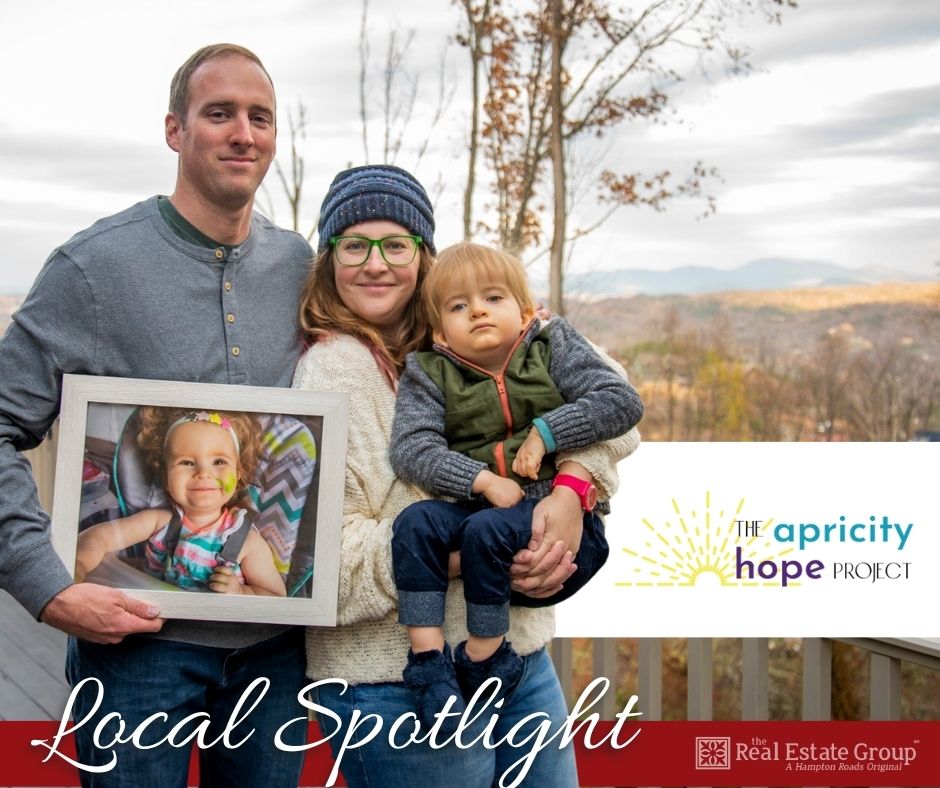 While Hampton Roads has relatively mild winters, there are certainly days that completely chill you to the bone. Days where thick ice on your windshield proves too powerful for your Dollar Tree ice scraper (that you've really only used a handful of times to scrape frosty morning dew). But just when you think the air couldn't be colder, the sun peeks out from behind gray clouds and the warmth of its rays kisses your face. In the midst of shivers, your body calms under the comfort of the sun. That feeling is apricity: the warmth of the sun in the winter.
Mother and caregiver to two young children fighting mitochondrial disease, Susan Geoghegan understands just how brutal "winters" in life can be. In place of scheduling swimming lessons and cutting crusts off grilled cheeses, Susan and her husband Michael spend too many days in the PICU and take turns administering rounds of life-saving medications. After the passing of their 5 year old, Lorelei, Susan and her family found learning to move forward hand in hand with grief to be a challenging and sometimes overwhelming burden to bear.
Too aware of the trials of being a medical mamma, and seeing a need for support for caregivers, Susan decided to bring sunshine to those who are also currently in the midst of their own dark winter through The Apricity Hope Project. The nonprofit organization was created for parents and caregivers of medically complex, special needs children who are impacted by life-threatening conditions who live or are treated in the Hampton Roads area of Virginia.
Five minutes spent scrolling on The Apricity Hope Project Facebook page will have you in awe of everything Susan has been able to accomplish under the most difficult of circumstances. When she is not caring for her young son Benji or working from home, she is co-hosting her podcast for medical mommas, When Autumn Comes, or sharing her journey with others by performing a TedTalk or creating art inspired by hope available on her shop.
The Apricity Hope Project is not only home to When Autumn Comes, but also the base camp to several other special events, support programs, and fundraisers like Care(giver) Packages and Go Bags, the Take Five Program, and their Autumn Retreat coordinated for caregiving mothers.
Susan and the AHP team, which is composed of local family, healthcare professionals, and friends, are currently gearing up for their next fundraiser: the second annual "camp: HOPE FULL". Camp: HOPE FULL is an all weekend camping experience in Virginia Beach, filled to the brim with fun events like, wine tasting, raffles, movie nights and more!
Running March 24th-26th, campers of all kinds are invited to join in on the fun, whether renting a cabin, parking an RV, or roughing it in a tent. All funds raised from the event will go towards funding mitochondrial disease research and towards AHP programs that directly provide support to medical caregivers.
Tickets are being sold now for the camp: HOPE FULL silent auction and can be purchased here, however, if you would like to support The Apricity Hope Project in other ways, there are plenty of opportunities available and can be viewed online at ApricityHope.org.
As the spring weather creeps its way in and we say goodbye to our mild Virginia winter (and hopefully our Dollar Tree ice scrapers), Susan and her team at AHP relentlessly continue to spread their warmth, light, and hope over Hampton Roads to those who need it most. To stay up to date with all volunteer opportunities or program happenings, be sure to follow The Apricity Hope Project on social media:
Instagram: @ApricityHopeProject , @WhenAutumnComesPodcast, @SuzGeoghegan
Facebook: The Apricity Hope Project
Website: www.ApricityHope.org , www.suzgeoghegan.com
For Caregivers: Caregiver Programs & Opportunities
Camp: HOPE FULL Silent Auction: Items available for bidding
"Even in the winter, in the midst of the storm, the sun is still there. Somewhere above the clouds, it still shines and warms and pulls at the life buried deep inside the brown branches and frozen earth." — Gloria Gaither
Download More Information About The Apricity Hope Project:
Host A Hope Drive (pdf)
About Apricity's Programs (pdf)
Autumn Beach Retreat 2023 (pdf)
One Page Media Kit (pdf)