Advantages of New Construction and Resale Homes
Posted by Eric Blackwell on Wednesday, September 10, 2014 at 12:39:20 AM
By Eric Blackwell / September 10, 2014
Comment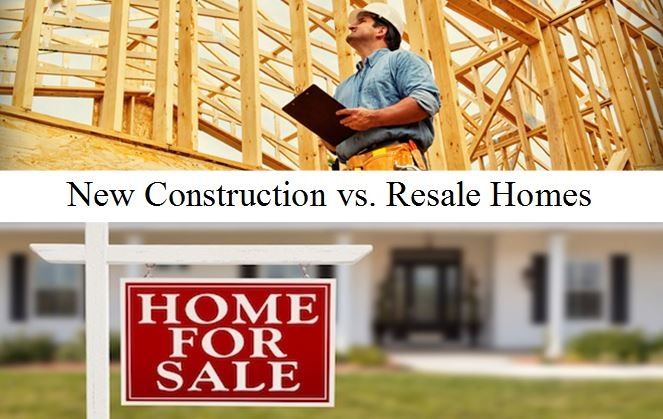 New homes and resale markets are seeing significant improvement here in Hampton Roads which is a sure sign of housing recovery.  New construction is popping up all over and there are many reasons why new construction is so popular.  Deciding whether to purchase new construction or an existing resale property is subjective and you should start with the cold hard facts.
New construction was once considered a luxury that many homebuyers couldn't dream of being able to afford.  Today, builders offer price ranges and housing styles that are conducive to any lifestyle and financial status.  There are many benefits of new construction including customization, energy efficiency, fewer repairs, low maintenance, community amenities, new home feel, etc. But in the end, it all comes down to your personal preference and location, location, location!
Below is a list of advantages to purchasing a new home as well as a list of the benefits associated with buying resale. Both options have associated pros and cons, but they are relative based on what you want from a community, home, location and standard of living. 
Advantages of New Construction
The home is brand new, and therefore it is move in ready. There is no need to spend weeks painting over someone else's poor decor choices or paint colors
Purchasing early enough gives you potential control over the finishing touches
Builders will address repairs before you take ownership
Open floor plans including spacious kitchens, luxurious bathrooms, laundry rooms and large walk-in-closets
Builder's warranty for the first year of ownership
All new appliances, HVAC, Electrical and Plumbing
Many new communities have more neighborhood amenities including pools, fitness centers, walking trails, tennis courts, etc.
Everyone else is new too.  You aren't moving into an established neighborhood where everyone knows each other and you are the new kid on the block
Energy efficiency and green appliances
Less maintenance and fewer repairs
Advantages of Purchasing a Resale Property
Depending on the price of the home, deposits for resale properties tend to be smaller
Extra features or previous homeowner upgrades may be included. These upgrades may cost more in a new home
Resale homes are typically in established neighborhoods with schools, shopping centers and churches
Resale homes have more of an opportunity to be negotiated to better suit the buyers needs
Resale homes typically close in shorter time frames which allow buyers the opportunity to lock into a mortgage rate
Mature trees and landscaping
Resale homes offer the charm and character of an older home
Structurally, most resale homes have done all of the settling they will do within the first 10 years of being built
Buying a home is a major decision for most people and considering all of your options is the first step of a successful home buying experience.  A licensed REALTOR® can help you through your home search and provide you with the hard facts you need to make the best decision for you.